Fushifaru Maldives, a 5-star boutique resort in Lhaviyani Atoll, is celebrating its success at the LUXE Global Awards, where it was honored with the prestigious title of 'Hotel of the Year.' The recognition highlights Fushifaru's exceptional hospitality, dedicated service, and commitment to creating unforgettable experiences for travelers worldwide.
In addition to 'Hotel of the Year,' Fushifaru clinched several other awards at the LUXE Global Awards:
Best Authentic Experience Resort in Maldives
Best Luxury Honeymoon Resort Globally
Best Luxury Boutique Resort Globally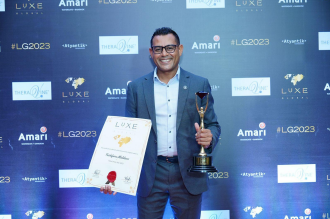 These accolades, alongside the Booking.com 'Traveller Review Award,' the 'International Sustainable Award' at the Luxury Lifestyle Awards 2023, and the 'Best Hotel Sustainability Progress' Award at the TUI Global Hotel Awards 2023, showcase Fushifaru's commitment to excellence and sustainability.
Advertisement
Ahmed Siaar, General Manager of Fushifaru Maldives, expressed his excitement, stating, "We are absolutely thrilled to have been awarded these international accolades. It is rewarding for all Fushifaru Residents and motivates us to continue striving for the best."
The consistent recognition reflects Fushifaru's outstanding hospitality, culinary offerings, and entertainment, establishing it as one of the premier resorts in the Maldives. For reservations and details about Fushifaru's 6th-anniversary celebration, visit www.fushifaru.com or email reservations@fushifaru.com.
Advertisement