The Maldives Marketing and Public Relations Corporation (MMPRC/Visit Maldives) has embarked on a pioneering journey across Eastern Europe, hosting a dynamic roadshow in three vibrant cities: Warsaw, Prague, and Budapest. This strategic move aims to fortify trade relationships, disseminate the latest destination information, and establish a formidable presence in this key region. Taking place on the 13th, 15th, and 17th of November 2023, the event sees participation from 21 industry partners based in the Maldives. This marks the first instance of such a roadshow series in Eastern Europe, recognizing its significance as a market post-pandemic. The roadshow provides a unique opportunity to directly connect with the travel trade and enhance the Maldives' presence in the region.
MMPRC envisions meaningful interactions and partnerships during the event, showcasing the diverse offerings of the Maldives for Eastern European tourists. The roadshow features a range of promotional materials highlighting individual products and experiences, including liveaboards, diving, luxury resorts, guesthouses, and family holidays. Attendees can also immerse themselves in Maldivian culture through a Local Snacks and Culture Display, providing an authentic taste of this exquisite destination.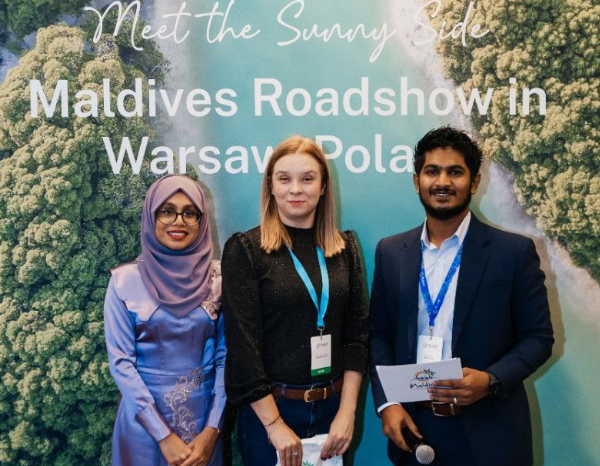 An exciting element of the roadshow is the Holiday Raffle Giveaway, offering attendees the chance to win free holiday packages sponsored by esteemed resorts such as Holiday Inn Kandooma Resort Maldives, Lily Beach Resort & Spa, and Seaside Finolhu Baa Atoll Maldives, as well as Le Meridien Maldives Resort & Spa across all three cities.
Advertisement
MMPRC's engagement in Eastern Europe includes various business-to-business (B2B) activities, focusing on individual products and experiences like liveaboards, diving, luxury resorts, and family holidays. Successful editions of the Access Luxury Travel Show (ALTS) in Prague and Warsaw, along with engagements at three airports in Budapest, underscore the commitment to expanding the Maldives' destination presence in the Eastern European market. Additionally, a webinar series for Czech Republic, Slovakia, Hungary, and Poland in September 2023, with over 50 agents in attendance, reflects efforts to strengthen ties with the travel trade.
The Maldives has experienced notable growth in tourist arrivals from Eastern Europe, surpassing pre-pandemic figures. As of September 2023, arrivals from the region for the year stand at 70,392, signaling a robust rebound and the potential to exceed the impressive arrival figures from the previous year.
Advertisement