Escape to the pristine shores of the Maldives, where luxury meets wellness in perfect harmony. Indulge in ultimate relaxation at the best spa resorts, surrounded by turquoise waters and white sandy beaches. Discover a world of tranquility and rejuvenation as you embark on a journey of self-care and pampering in this tropical paradise. Dive into crystal-clear lagoons, savor exquisite cuisine, and rejuvenate your body and mind amidst breathtaking natural beauty. Your Maldives wellness retreat promises an unforgettable experience where serenity and luxury seamlessly blend, leaving you refreshed, revitalized, and ready to embrace the world anew. Here are some of the finest wellness resorts in the Maldives for your exploration.
Anantara Maldives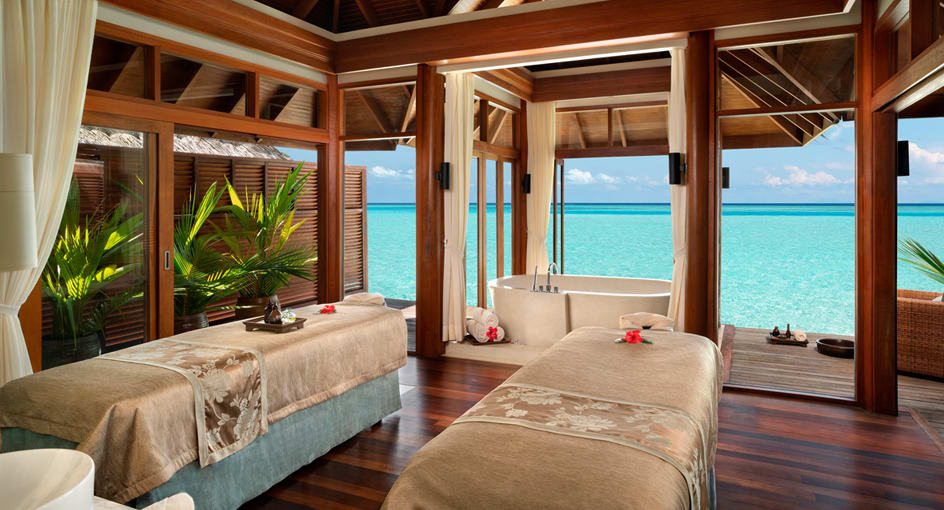 Anantara Maldives"Anantara Maldives operates a portfolio of five luxurious resorts across the Maldives, all under the esteemed Thai hospitality group, Minor Hotel Group. Offering a diverse range of options, these resorts cater to a variety of preferences, be it for a romantic honeymoon, a family vacation, or a tranquil beach escape for couples seeking the warmth of winter sun. Anantara encourages you to choose the style of luxury that resonates with you, with each resort thoughtfully reflecting the distinctive modern essence of its island.At the core of Anantara's philosophy lies a deep commitment to well-being. Whether you seek personal tranquility, wish to share it with a loved one, or intend to include your little ones in the journey, Anantara invites you to oxygenate your body and immerse yourself in a truly remarkable wellness experience, setting it apart as one of the premier wellness retreat destinations in the Maldives. Here, you can reestablish your connection with both yourself and the natural surroundings in your own private Maldivian spa retreat, an oasis of wellness. Between sessions of yoga and meditation, indulge in nourishing snacks and herbal teas, engage in insightful conversations about your wellness requirements with Anantara's expert wellness guides, and entrust all booking and planning responsibilities to your dedicated wellness host.
Anantara goes the extra mile by offering tailor-made recovery packages (available in 3-day or 5-day programs) at each of its Maldivian resorts. These programs are designed to help you restore your vital energy, alleviate stress, and attain a profound state of relaxation for your body and mind. The signature customizability allows you the freedom to choose treatments and session timings according to your preferences. You can blend various experiences or opt for individual treatments, including massages, body therapies, facials, or shorter, revitalizing sessions lasting either 60 or 90 minutes, all within the span of a single day.
Advertisement
COMO Cocoa Island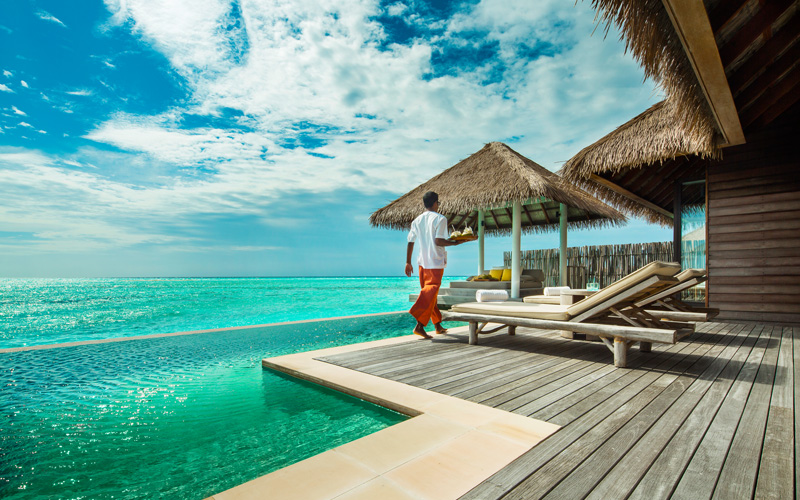 Spanning the majority of the island's picturesque terrain, the captivating Como Shambhala Spa offers a truly indulgent experience. Guests can luxuriate in spa suites or relish treatments within the secluded confines of their own villa. COMO Shambhala Retreat, situated on COMO Cocoa Island in the Maldives, perfectly encapsulates the resort's commitment to the pursuit of well-being in harmony with an idyllic private island escape. The retreat places a strong emphasis on holistic wellness and Ayurvedic therapy. Guests can book health and wellness packages that guide them along a transformative 'wellness path,' harnessing the potency of natural marine ingredients, extracts from exotic flora, seaweed, and sea salt.
Each of these packages assembles an array of complementary treatments, designed to deliver tangible results, spanning the spectrum from relaxation to rejuvenation and recovery. Beyond the diverse range of massages and rejuvenating cosmetic procedures for both the face and body, the spa also hosts yoga sessions, which are particularly sought after during the mesmerizing sunset hours
Kagi Maldives Spa Island
Nestled within the North Malé Atoll and conveniently reachable by a swift 60-minute speedboat ride from Male Airport, Kagi Maldives Spa Island stands as an exclusive boutique retreat reserved for adults. This wellness-focused haven seamlessly marries the concept of well-being with the charm of expansive, elegantly designed villas, some poised above the azure waters and others gracing the pristine beaches.
Kagi Maldives captures the essence of tradition and modernity, accompanied by warm and attentive service that ensures absolute relaxation.This 5-star resort comprises a collection of 50 villas, including those on the beach and over water. Alongside, it houses a state-of-the-art gym, two delectable restaurants, three inviting bars, and a PADI dive center.Kagi Maldives Spa Island centers its essence on the pursuit of self-discovery and holistic well-being through thoughtfully curated retreat programs. Positioned within the serene embrace of the lagoon and enveloped by the elements, it serves as an ideal sanctuary for those seeking to slow down, embark on a journey of self-exploration, and embrace self-care, ultimately paving the path to a more serene, balanced, and authentic life.
Hurawalhi Island Resort
For many, embarking on a dreamlike vacation in the Maldives represents the ultimate quest to unwind, engage the senses, nourish the soul, and also acquire valuable skills and knowledge that can be applied upon returning to the rigors of daily life. The memory of practicing those rejuvenating asanas at the resort, partaking in aromatherapy and sound healing sessions, and embracing the essence of your favorite wholesome dishes can continue to yield wellness benefits long after the holiday has ended.Innovative spas, like the renowned Duniye Spa at Hurawalhi Maldives, exemplify the evolving landscape of wellness in the Maldives.
Here, wellness has evolved into something far more intricate than the traditional notions of massage and facials. At Hurawalhi Maldives, wellness is a year-round affair, with the resort regularly hosting a variety of wellness retreats that enable guests to synchronize with the healing ambience, make the most of the ocean's therapeutic powers, and indulge in the luxury offerings of the resort.Duniye Spa at Hurawalhi presents an array of holistic treatments within the serene confines of an overwater spa, offering breathtaking vistas of the pristine turquoise lagoon.
Alongside the conventional massages, facials, and body scrubs, the spa's treatment menu includes unique options such as the 'African Pinotage Body Contour Ritual,' which utilizes the antioxidant-rich African Potato Balm, Sound Healing sessions with Himalayan singing bowls, and Footprint Therapy, a technique that focuses exclusively on your feet to enhance blood and lymphatic circulation and reduce water retention. These offerings showcase the transformation of wellness in the Maldives into a multifaceted experience that extends far beyond the realm of conventional spa treatments
Amilla Maldives Resort & Residences
Amilla Maldives Resort & Residences, also known as Amilla Fushi, redefines the tropical island luxury experience with a more versatile approach, catering to both couples and families in the Maldives. Infused with youthful vibrancy and contemporary aesthetics, this resort offers a plethora of enticing features, including cutting-edge design, innovative dining choices, stylish villas, and exceptional snorkeling and diving opportunities. Situated in the UNESCO Biosphere Reserve of the Baa Atoll, just a short 30-minute seaplane journey from Male Airport, Amilla Fushi is not only putting the Maldives on the map as a couple's paradise but also as an inviting destination for families and friends.Javvu Spa, a sanctuary for body and mind, boasts 10 treatment pods, a yoga pavilion, fitness center, a wet area, a private training studio, sensora chromotherapy, and a wellness café.
The social-centric spa area at Amilla offers specialized barber services, a hair salon, exclusive manicure and pedicure areas, a beauty bar, and a relaxation space with captivating views of the sparkling Indian Ocean. Notably, Amilla Fushi has been honored with the 'Leading Wellness and Spa Resort' award at the South Asian Travel Awards (SATA) for both the Maldives and South Asia for the second consecutive year, solidifying its reputation as an idyllic island retreat that prioritizes well-being and relaxation.
Advertisement